Poundworld panned for selling things for more than £1
It's easy to empathise with the discounter's predicament - its pricing structure doesn't exactly offer room for manoeuvre.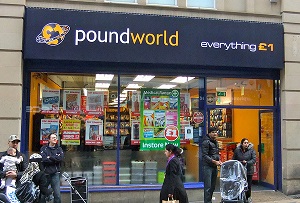 The simplicity of single-priced retailing is brilliant - both as a way of way of communicating good value and a way of simplifying a business's processes. Poundland, Poundworld and their leagues of imitators are capitalising on the Great British public's keen eye for a bargain in the wake of the economic downturn and we've seen the numbers of their stores grow and grow.
An Advertising Standards Authority (ASA) ruling today, though, highlights one of the difficulties of this model. Poundworld has seen its 'Everything £1' slogan banned and labelled 'misleading' after one shopper complained that it was selling some products for as much as £8.99.
It defended itself by pointing out that these were just odd items that become available, listed as 'manager's specials', that there 'tended to be no more than two products on offer at a time' which were more than £1, and that they made a lot of effort to clearly distinguish these items.