The power of a positive Christmas message
Letting your team disappear without a pre-Christmas pep talk could be a very costly mistake...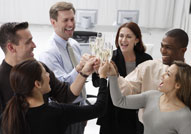 Managers must try and give staff a psychological boost before they leave the office for Christmas, or they might come back in the New Year with their head screwed on the wrong way, according to business consultancy Spring Partnerships. Spring reckons that employers often underestimate how important the Christmas period is to people psychologically. Get your message right, and they'll go home feeling incredibly positive about their company; get it wrong, and they might spend the holiday stewing over whether their workplace isn't what it used to be…
It's easy to see why leaders might shy away from a Christmas message this year. 'There's a temptation not to say anything if there's nothing positive to say,' as Spring director Gareth Chick says. But he reckons this is a massive mistake, particularly after a tough few months. His theory is that Christmas is hugely important because everyone goes away at once. And when we head home to our families, lots of us end up reflecting on our jobs and what's really important to us – so if we leave the office feeling a little concerned or unsettled, we're more likely to be negative when people ask us about our work.
This is dangerous, because it might encourage us to make a new year's resolution to seek pastures new in January (admittedly easier said than done at the moment) – and even if we do nothing about it, we'll still bring a bucket-load of this negative energy back to the office with us. On the other hand, if we go away feeling great about the company and the people in charge, we're more likely to be positive. 'The resolution I make instead is that it's up to me to go back in and make that company great again,' says Chick.