PPI haunts Lloyds as losses mount
With TSB and a share sale, it should have been a great quarter for Lloyds - but PPI is still causing problems for the bank.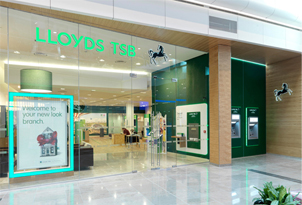 That the ghost of mis-selling past is still hovering around Lloyds is, MT guesses, not what the bank's new shareholders would like to have woken up to this morning, but there you go: the bank has posted a third-quarter loss after its costs for the PPI scandal nudged above the £8bn mark.

For those with short memories, having separated off the TSB part of the business at the beginning of September, the government, which (now) owns a third of the bank, began the process of reprivatisation several days later when it sold off a 6% stake in the lender for £3.2bn.

Now it's posted statutory pre-tax losses of £440m in the three months to the end of September, up from a £151m loss during the same period last year. Underlying profit was £1.7bn, down from £1.85bn last year, while PPI costs rose by another £750m to £8.03bn, of which £1.7bn relates to 'administration costs'.

That's got to hurt: particularly because bank is still smarting from a £4.3m fine handed to it in February by the Financial Services Authority. Admittedly, in the grand scheme of things, £4.3m isn't going to cause it serious damage - but Lloyds is the only major bank to have been slapped on the wrist about the way it's handled PPI complaints. Ouch

To be fair it's not just PPI weighing down its balance sheet (although Lloyds did admit that the volume of complaints has fallen 'more slowly than projected'): the bank has also made losses from sales of assets including German life insurance business Heidelberger Lebensversicherung (on which it made a pre-tax loss of £330m - schlecht, as the Germans might put it), as well as various assets in Australia.

Despite the not-entirely-positive news, Lloyds boss Antonio Horta-Osorio put a brave face on.

'I am pleased the progress we have made enabled the UK government to begin the process of returning the group to full private ownership, and importantly, getting taxpayer's money back at a profit.

'Our strategic plan continues to deliver,' he said. Still: shareholders could be forgiven for feeling nervy.