PR headache for Ryanair after bird trouble
A Ryanair flight to Rome was forced into an emergency landing yesterday by some rather careless birds...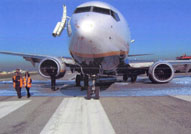 Ten people needed medical attention yesterday after 'multiple bird strikes' forced Ryanair Flight FR4102 from Frankfurt into an emergency landing at Rome's Ciampino Airport. The birds seem to have flown kamikaze-style into the plane's engines while it was descending towards the airport, and the subsequent landing was sufficiently difficult to cause 'substantial damage' to the aircraft's landing gear. If things weren't tough enough for the airline industry, now Nature's conspiring against them...
The good news was that none of the 172 people on board were seriously injured, although 2 cabin crew and 8 passengers were taken to hospital as a precaution. The birds apparently decide to explore the inside of the engines as the plane was coming in to land, sending smoke billowing from plane and forcing the pilot to bring it down a little more quickly than intended. And just in case we were in any doubt about what happened, the ever-forthcoming Ryanair has already published a picture on its site of the plane's blood-spattered nose cone, which looks like it's just gone 12 rounds with Joe Calzaghe.
Ryanair isn't generally known for being apologetic, but it was the model of penitence in its public statements yesterday, 'sincerely' apologising to all its passengers for the episode and the subsequent disruption. Near-misses like these are always a PR challenge for companies, but Ryanair seems to have taken the sensible route of maximum disclosure, while emphasising the sterling efforts of its pilots and cabin crew. So it shouldn't come out of this badly – although with Ciampino expected to remain closed until Monday evening, it will have caused a lot of upheaval for unlucky flyers.