PR perils of poor press releases
There's no such thing as bad publicity, they say. Maybe not, but there are such things as bad press releases, a particularly choice example of which pinged into the MT inbox on Wednesday.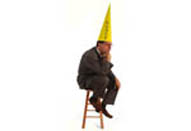 We thought we'd share it with you, partly because it provides an object lesson in the kind of things to avoid when writing a press release, but mostly because it's pretty funny.
Coming from a financial company called James Hay - described opaquely as 'a WRAP manager' and the 'UK's leading SIPP provider' (press release lesson one, explain what the company does simply and without jargon), this missive gets off to a great start with two mistakes in the first three lines.

The first of these is that old favourite, getting the name wrong. Or rather more impressively, managing to get two names wrong in one go. Hands up who's heard of a runner-up from the last series of Apprentice called Michelle Badger? Do they mean Michelle Dewberry, or Ruth Badger? We'll never know.

Then, just to make sure they finish on a flourish, there's a final, farewell mis-spelling at the end. The chief exec of Birmingham City FC is Karren Brady, not Karen. Oh dear.
Still, it's not all bad – at least we've written something about it. Here at MT we are not big fans of Apprentice-based PR pitches, so we almost certainly wouldn't have done otherwise.