Praise Be! C of E cashes in on investment fund
The Church of England's largest investment fund is up half a billion on last year. Not bad...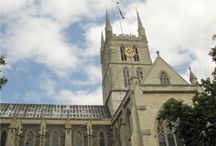 The Church Commissioners today reported that the assets of the Church's largest investment fund have grown by a not-too-shabby 15.2% over the last year, taking the fund's overall value from £4.8bn to £5.3bn. Well, they do say charity begins at home...
Of course, this being the Church, the fund is not there to provide fat bonuses for its 'boss', Archbishop of Canterbury Rowan Williams, or the rest of his 'top management team'. Heavens no; it's actually a closed fund for a far more deserving cause: paying the pensions of those clergy and bishops who last saw active service before 1998. They have surely done their bit and deserve their rewards, both on earth and in the great hereafter. It also funds mission activity, as well as paying for the maintenance and upkeep of cathedrals and churches across the country.

The Church itself will welcome the news; for although its assets are substantial, many of its investments took a real pasting during the recession. Although in a way it's probably better that they did: how would it have looked if the Church had salted away its treasure in hedge funds and offshore havens, rather than suffering the travails that have beset most of its flock in the past few years? So in a way, this result is a case of virtue rewarded.

Among the fund's star performers was its property portfolio, including Hyde Park Estate, which yielded a 15.4% return. In fact, the First Church Estates Commissioner Andreas Whittam-Smith (the most senior lay member of the Church Commissioners) pointed out that the fund has out-performed similar ones fairly consistently over the past 15 years.

Of course investing the Church's money is not without its own set of particularly strict ethical tests. And it has come under fire for some of its holdings, most recently its stake in BP. But as Whittam-Smith points out, the Commissioners take advice from the Church of England ethical investment advisory group, which dictates what shares it can and can't buy – so no tobacco, alcohol or arms firms, regardless of how well they are doing.

Then again, given the gains made in the last year, it looks like the big man upstairs has been smiling on their endeavours. So who are we to question them?