Prehistoric CIOs face extinction as the dawn of a new era approaches
Is your chief information officer the dinosaur in your organisation? Well it's time to get your company out of the Jurassic period.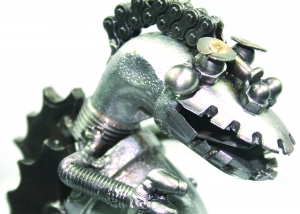 Do you remember a time before email or the internet? Like listening to music on cassette tapes or Oasis playing Knebworth in their heyday, it seems like a distant memory doesn't it?

Technology in the early nineties was characterised by painfully slow dial-up internet access and a workforce that was totally desk-bound. Back then business IT systems were run by one dedicated on-site server, which could usually be found downstairs in a very dusty basement.

How things have changed. Now accessing emails on the move is the norm, and businesses are bringing consumer devices into the workplace with Bring Your Own Device schemes, not to mention the growth of mobile applications. As a result one particular job role has been undergoing a quiet but very distinct evolution - the CIO.

Up until now, CIOs have always actively managed their IT. They have traditionally been the kind of IT specialists that understand the nuts and bolts of their IT estate and are happiest when they are tinkering with bandwidth dials and tracking movement of business applications. With cloud-based and mobile technology making their big entrance into the business world, that's all changing. New technology combined with more intelligent corporate networks is making the job of monitoring, scrutinising, and keeping a very watchful eye on business IT far less relevant.

Hands on CIOs are a dying breed and those that are still clinging to the old days need to change quickly if they're to avoid extinction and continue to prove their worth to the business. It's a sad fact that prehistoric IT leaders who can still re-programme the mainframe are becoming a drain on internal resources and are unlikely to be around in 10 years' time.

The old guard of CIOs need to change their ways if they are to compete with the next generation of enthusiastic, tech-savvy, IT guys who are chomping at the bit to get under the skin of the old CIO mentality and change it for the better.

The good news is that some CIOs have begun to recognise this trend and have adapted to it by taking a more strategic role within their organisations. They are becoming trusted advisors and experts in innovation instead of puppet masters pulling the business' strings.

We're fast approaching the dawning of a new age of IT management. A future built on innovation and change management and by becoming genuine advisors and strategic thinkers CIOs can ensure their survival for generations to come.

Alberto Soto is VP of EMEA at data storage company Brocade