Premier Foods backtracks but won't apologise for squeezing suppliers
The food giant claims it has been 'misinterpreted'. Cue the world's tiniest violin.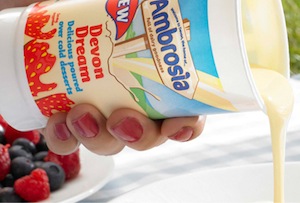 When a company is criticised for a business practice that is essentially keeping it afloat there's not much choice between a rock and a hard place. So it's no surprise that Premier Foods, roundly roasted after a BBC Newsnight investigation revealed it was demanding 'pay to stay' payments from suppliers, is trying to pass it off as a big misunderstanding.

'The investment payments we have requested from our suppliers are effectively just one form of discount,' chief executive Gavin Darby said in a statement. 'Over the last few days it has become apparent that this mechanism has been widely misunderstood and misinterpreted.'

But, being the magnanimous, caring company that it is, Premier Foods has listened to the uproar and will simplify its 'Invest for Growth' programme 'to a more conventional type of discount negotiation potentially based on price, value or volume based rebates, or lump sums'.

That will change diddly squat for those at the bottom of the food chain. Come hell or high water, Premier Foods, which owns ageing brands including Mr Kipling, Bisto and Ambrosia custard, is determined to squeeze its suppliers, as it in turn has the noose tightened by the under-pressure supermarkets (resulting in a profit warning in October and shares down 61% to 33p this year).

It's certainly not the first example of big businesses turning the screw on those below them: everyone from Argos and Homebase to Debenhams has been at it and Tesco practically invented the practice (check out this piece on the blood-letting by its meat buyers back in the day). And unless the Government stops pontificating and actually passes a new law it won't be the last either.