Published: 08 Jul 2019
Last Updated: 08 Jul 2019
"Thrills and spills... I've been through a few of those," says Tony Durrant. The chief executive of Premier Oil isn't kidding. When he joined the FTSE 250 exploration and production group 14 years ago, Premier was one of the UK's most dynamic independent players in the oil and gas sector. By 2014, the business was in a death spiral. After slipping into the red, the company lost nearly 96 per cent of its peak market value, with investors losing faith in management when a multi-billion-dollar investment went badly wrong.
Premier Oil makes money by finding – and producing – oil and gas. It owns no refineries or retail outlets. So when exploitation of the Solan oil field, located in storm-ravaged seas west of the Shetland Islands, fell badly behind schedule, the crisis struck at the very heart of the business.
Sitting in a small room at Premier's no-frills head office near London's Victoria train station, Durrant recalls the saga through gritted teeth. "It's an extreme environment, you can only drill at certain times of the year and when you're out of those weather windows, it's very costly," he says. "The other big mistake we made on Solan was awarding the drilling contract to a UK yard, under some pressure from the British government at the time.
The yard went bust half way through the contract, and we had to effectively bail it out to get the contract done." The project was also a technical stretch. Premier's expertise lay in developing floating facilities, such as those used in its large Catcher oilfield near Aberdeen, rather than the kind of fixed platform linked to Solan.
Ultimately Solan cost Premier somewhere between $1.5bn (£1.2bn) and $2bn (£1.6bn), a big dent in the balance sheet of an independent (although the field is profitable now). The delays also cost Premier's then chief executive, Simon Lockett, his job. He stepped down after nine years at the helm. By most benchmarks – production, reserves and operating cash flow – Lockett's tenure had been a success but the company's market valuation was lower than the worth of its underlying assets when he left.
Oil price collapse
When Durrant, the former finance director, took over in June 2014, the patience of investors and bankers was wearing thin. What neither he – nor anyone else in the industry – had foreseen was the utter collapse in the price of crude between 2014 and 2016. From a high of more than $100 (£79) a barrel, the price sank below $60 (£48) – the floor at which the group stress tested – to $28 (£22) a barrel, a price "we didn't ever imagine it would go down to", says Durrant.
The magnitude of this crisis made Solan look like a storm in a teacup. It took Premier the best part of two years to recover – and there were times when the company's existence hung in the balance. Durrant sold some of Premier's promising but cash-burning projects in the North Sea, a basin straddling Indonesia and Vietnam, and assets in Pakistan, Kenya and Iraq, as the group went into what he calls "a difficult period of retrenchment".
Durrant's worst fear, he says now, was that the banks would lose faith. And, as the company's mountain of debt grew, he sensed that those fears were being realised. Oil exploration is a capital-intensive business, so it is crucial for managers to remain on good terms with their lenders. As the crisis deepened, Durrant and his team were passed from sector-specialist bankers to hard-nosed restructuring teams that had no ties to the company.
Things looked bleak. In the face of tough, persistent questioning, Durrant and his team remained insistent that the company had a future. Their message, he recalls, was simple: "We said, ultimately you stand a much better chance of getting your money back if you stay with us."
Audacious plans
Having spent two decades as an investment banker at Lehman Brothers before joining Premier, Durrant was well equipped to go toe-to-toe with financiers to safeguard the company's future. That experience stood him in good stead during a complicated process involving three-foot-high stacks of documents, a large room at London law firm Allen & Overy, which was almost continuously occupied by bankers, lawyers and independent experts, and "a huge range of haggle points" on which Premier didn't want to give way.
Durrant's discussion of the rollercoaster aspects of oil and gas exploration is punctuated by short bursts of laughter. Looking back, he says he was always confident that Premier would survive. Indeed, even during the darkest hours, he and his team were bullish enough to look beyond the usual cost-cutting measures. "We hadn't stopped thinking that we could grow our way out of this," he says.
That mindset inspired the management to launch an audacious plan to raise funds. A promising set of five North Sea fields, owned by Germany's energy giant E.ON, were on the market for $120m (£95m). Durrant had been contemplating buying these assets for years and Premier could snap them up at a bargain price if the same banks threatening to cut off capital could be persuaded to lend more money.
"We needed 75 per cent approval from the syndicate. We were fairly comfortable we could get 60-70 per cent but we also knew there was 20 per cent we would never get, so it all came down to a few banks," Durrant says. After much haggling, he and his team got the deal over the line.
"Our share price had collapsed to 19p. We couldn't issue any equity at that point so the banks agreed to lend us the money. The deal was 100 per cent debt financed," he says.
That investment has paid off on its own terms – the assets are reckoned by the company to be worth nearly 10 times the outlay – but also in restoring faith in Premier's management. Investment guru Benjamin Graham, Warren Buffett's mentor, once said: "Over the short term, the stock market is a voting machine but over the long term, the market is a weighing machine." The market has weighed Premier and seems to like what it sees. The company's share price has improved, production estimates have risen to 75,000-85,000 barrels of oil equivalent per day and management expects to pay off $250m-$350m (£198m-£277m) in debt by the end of the year.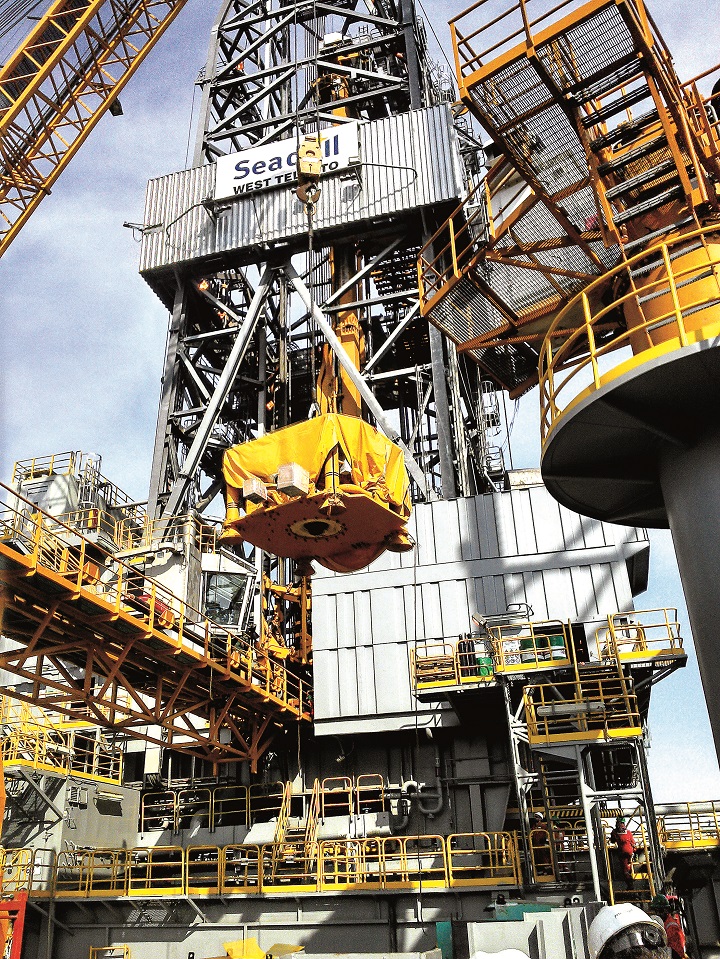 Drilling in the Dua oil field off the coast of Vietnam
Durrant doesn't like to talk too much about himself – he lists golf, rugby and football as his favourite ways to wind down – but he certainly seems to like the oil business. He enjoys socialising with other oil industry executives, notably Nick Cooper, chief executive of Ophir Energy, whom he met recently at a rugby match, and says: "It's important that you can relax every now and again. The oil industry is pretty good at that. We may kick bits out of each other in joint venture discussions but it's a very sociable industry."
Durrant certainly prefers oil and gas exploration to investment banking. Starting out as an accountant at Arthur Andersen, he joined Lehman Brothers, rose through the ranks and left three years "before the apocalypse" as he describes the bank's collapse in 2008. He decided to join Premier as finance chief after a headhunter asked him: "Do you want to be an investment banker until you're 65?" As Durrant says: "Of course, there's only one answer to that."
Looking back, he admits Premier made mistakes but insists the decision to drill west of the Shetlands was taken during a "gold rush" when the oil price soared to $130 (£103) a barrel.
Cash-fuelled explorers were chasing every available opportunity, he says. "One of the dilemmas for our business is that when the oil price goes up, it gets harder and harder to find the next growth opportunity. Investors are asking: 'Where's your next deal? Where's your growth?'"
"With the wonderful benefit of hindsight, that was perhaps the trap we became embroiled in but everybody else had the same feeling," Durrant admits. There was, he says, a feeling that the oil price might be near its peak but the downturn was far sharper, deeper and longer than anyone expected. Yet he firmly believes that, in this exceptionally volatile sector, what goes down can always come back up: "I always thought the oil price would recover." Although Durrant talks calmly about the process now, he once told a reporter: "Did I lose sleep? Sometimes you don't even get to sleep."
Back in 2014, Durrant briefly considered acquiring Africa-focused Ophir before deciding it wasn't the right deal. "We just couldn't find synergies because the companies had gone in different directions," he says. The most fruitful outcome of those conversations for Premier was the recruitment of Ophir's chief financial officer, Richard Rose, who stood alongside Premier's chief executive in the company's struggle for survival.
With Premier back on its feet, fresh capital has offered new exploration opportunities. One of the most promising is Zama in the Gulf of Mexico. One of the biggest shallow-water oil discoveries of the past 20 years, Zama is a "once in a lifetime opportunity", according to Durrant. Appraisal drilling suggests output from this field could reach 175,000 barrels a day. Premier had to pay $16m (£12m) to develop the field in partnership with Talos Energy of Houston and Sierra Oil & Gas of Mexico City. The first oil is expected in 2022-3. Support from Premier's lenders to back the venture went right down to the wire, with a committee of seven banks voting four to three in favour in 2017.
Rapid pace of change
The company, however, still faces plenty of challenges. By the end of this year, its debts could still amount to around $2bn (£1.6bn). Relations with shareholders have improved but remain imperfect: 42 per cent of the votes cast at the 2019 AGM were against an increase in Durrant's annual pay package from £1.4m to nearly £1.6m. (One Wall Street journalist concluded that Durrant's remuneration was not outlandish, given the sector.)
Premier is also hindered by the cliché that the North Sea oil boom is over. Far from it, says Durrant. Forty per cent of North Sea reserves have not yet been produced, he counters. Most of the industry giants have pulled out, which means, he argues, more opportunities for companies like Premier. Costs have fallen too: Premier only needs to earn $20 (£16) a barrel to break even now, compared with $35 (£28) a barrel in 2012.
The pace of change in oil and gas exploration is rapid and the commodity price cycle can be punitive. Companies like Premier need to keep moving to survive, which is why, Durrant says: "We're not jumping up and down quite yet." For Durrant, the mantra will remain, in the famous words of oil tycoon Jean Paul Getty: "Rise early, work late – strike oil."
Images: Premier Oil