Prepare for the robot revolution
With the march of the machines on the horizon, Humans Need Not Apply argues that automation will bring a huge decline in jobs. But the book's solution seems unworkable, says John McLaren.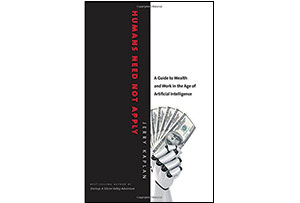 Jerry Kaplan is both lucky and unlucky. Lucky because, as he slips in, he lives very comfortably, in a vast house full of gizmos. Unlucky, because if the cards had fallen differently - or perhaps if he was even smarter - he might be as famous and rich as Gates or Zuckerberg. In 1980 he worked on a project which led to someone else founding Symantec. In 1996 he rubbed shoulders with Jeff Bezos, who was starting Amazon, while he himself was founding OnSale, which might have beaten eBay, but didn't. He made the most of the collapse of his tablet computer company by writing an excellent book, Startup, about it, and a few years ago he entered the gaming market by launching Winster, which...you get the picture. He is doubtless content now as a well-heeled futurist and teacher of computer science, but you still sense that he must sigh whenever he catches a distant glimpse of a Learjet.
The book starts with an enjoyable history of AI. I enjoyed the account of an early robot running amok - in 1972 one of the first computer-controlled arms was not bolted firmly enough to a table and broke free, rampaging all round the lab, cornering one terrified worker, until some brave rescuer dived to yank the plug from the wall socket.
Today Kaplan admits that, for all the complex tasks they perform, machine learning computers have no form of consciousness or independence of aspiration. He describes them as possessing 'synthetic intellect' rather than artificial intelligence. If he checks a dictionary, he may discover that these terms mean the same thing, but, semantics, apart, he is clear that we are nowhere near the sci-fi stage where the robots run around blurting 'exterminate, exterminate' with a view to establishing a utopia for machines. (My own first novel was about AI, and experts I spoke to back then said that it would never actually arrive because it was a moving target - a term that computer folk applied to whatever they couldn't yet do. That may still hold true today.)