Primark basks in sunshine as hot weather boosts sales
The heat wave has saved the clothing chain's skin after a slow start to summer sales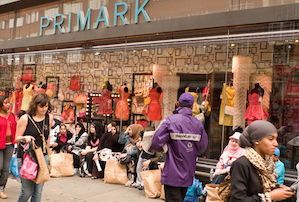 The current wave of glorious weather has obviously fuelled the nation's craving for £2 t-shirts after Primark clocked serious sales growth.

Despite a disappointing start to the season's sales (mostly put down to cloudy skies in March and April), Primark owner Associated British Foods (ABF) reported a sales surge of 20% during its third quarter.

The company said: 'Like-for-like growth was subdued during the very cold months of March and April but we have seen a marked improvement with the better weather in May and June.'

ABF said profits were higher and net debt was lower – overall revenues for the group were up 8% over the last 16 weeks.

Experts at Panmure Gordon have upgraded Primark shares to a buy rating commenting that the growth rate would put Primark 'comfortably ahead of key peers'.

Analyst Graham Jones also commented on the impressive expansion plans of the budget clothes retailer. Primark already has 257 stores, nine million square feet of selling space and has big extension plans in Manchester and Newcastle.

Its expansion plans include opening an outlet in Marseille - the first time Primark has ventured onto French soil, although whether the famously chic French shoppers go for Primark's cheap and cheerful aesthetic remains to be seen. MT suggests the reaction might be more 'Eww la la' than 'Ooh La La'.

Meanwhile, the company has defended its reaction to the Rana Plaza disaster in Bangladesh, stating:

'We donated food to some 1,300 families shortly after the event and we have already paid short-term financial compensation to more than 3,300 workers in the building, irrespective of their employer.

'Primark has committed to long-term compensation for victims who worked for its supplier, and their dependents.'

The sales boost certainly proves the aforementioned PR disaster has done little to dampen the public's appetite for Primark's bargain basement fashions.
Image: Flickr Hopeless128