Primark feeds profit growth at ABF
The rag trade is as profitable as ever for Associated British Foods, but an impairment charge Down Under keeps full-year pretax profits at last year's levels.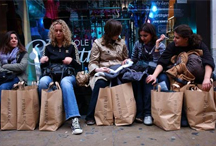 In its sales forecast back in September, ABF promised its shareholders the moon on a stick: a 15% uplift in sales, and a 3% increase in those exacting like-for-likes, generated through the launch of 19 new Primark stores. Two months later, the firm is bang on the money: 3% like-for-like sales growth and revenues of £3.5bn, up 15%, for the year to 15 September 2012.

ABF would have over-delivered too, if not for a few expensive issues with its Australian operation. ABF's annual filing shows a £98m non-cash charge for the 'impairment of property, plant and equipment' at its Aussie meat factory, which has performed below expectations. Perhaps a dingo got caught in the works… As a result, group pre-tax profit stands at £761m, up just £4m up on 2011.

Aside from that one-off charge, ABF is in rude health. Classically counter-cyclical, ABF does everything from growing its own wheat (the original founders were farmers, after all) to baking the bread to selling the end product in its own stores. The margins on food production may be tiny, but maintaining such control over the business verticals really pays off in a downturn. As does having such a varied business: clothing to Ryvita - now that's diversification.
And the proof is in the pudding. ABF's report cites an 'exceptional' performance from discount fashion chain Primark. Despite the downturn in Europe, sales at the budget chain have been 'buoyant' on the Continent, says group chief executive George Weston. UK trading has also been 'particularly strong', he added.

Primark is the economic success story that just keeps on running. The chain has created 10,000 new jobs over the past year and now employs 43,000 worldwide. And the festive season will no doubt see queues at the Oxford Street flagship store stretching down to Bond Street. But it's not the only sweet spot for ABF. Sugar too has contributed to the 'very good results'. Rising commodity prices have driven up revenues at AB Sugar by 25% to £2.7bn, while revenues at the group's agriculture division rose 12% to £1.27bn.

As usual, ABF's grocery division has lagged behind the rest of the group. Revenues at this division, which makes the likes of Twinings, Ovaltine and Kingsmill, are up just 1% to £3.7bn while adjusted operating profit has fallen almost 25% to £187m, mostly down to restructuring charges at George Weston Foods, which makes Australian brand Tip Top bread.

Between that and the malfunctioning meat factory, the Aussies may find their Christmas bonuses are rather light this year.

As for shareholders, they won't need to shop at Primark this Christmas. Diluted earnings per share rose from 68.7p to 70.3p, while a final dividend of 20p was proposed, bringing the total for the year to 28.5p, an increase of 15 per cent.