Primark offers more for Rana Plaza victims
Discount clothes chain Primark has defended its use of Bangladeshi factories as it extends its compensation payments.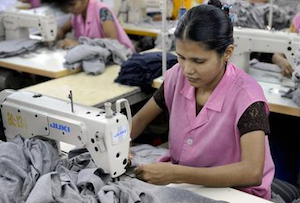 Primark has offered to extend its compensation for victims of April's Rana Plaza factory collapse in Bangladesh.

The bargain basement clothing brand has said it will pay the wages of those affected for a further three months, having initially offered to pay them for six. The collapse killed more than 1,100 people and injured 2,500 – including people working on production for Primark.

Despite the criticism the brand has come under for its use of the factory and others like it, Primark has stood out among other brands for its fast reaction to the disaster and its offers of compensation. As we reported back in September, Primark is the only company to have confirmed compensation for workers at the factory. It was one of only nine brands to attend a meeting in Geneva in September to discuss support for victims – 19 others who used the factory failed to attend.

'Primark was the first to come out and say we were in that building but 28 brands were in that building,' said Simon Lister, head of corporate governance at Primark owner Associated Foods.

'Some are still denying responsibility. We were the first. Why? Because we knew we were there. Because we know where our clothes are made.'

Concerns over the conditions in Bangladeshi garment factories have been mounting over the past year. In November a fire killed 112 workers in one such factory and another last month killed nine. The industry is started to make some noise about making fundamental changes. Earlier this week Bangladesh along with the International Labour Organisation agreed to launch a $24m initiative to improve conditions.

Lister has said Primark would welcome a rise in the minimum wage for garment workers and insisted the garment industry is a 'force for good' in Bangladesh.

'The beauty of the garment industry – and words like 'force for good' have been used in the past – and the reason it's a force for good is you're taking a whole load of people from abject poverty, from the fields, from the farms, and you're putting them into money earning, you're giving them bank accounts,' he said.

All eyes should now be on the other brands involved in Rana Plaza – Primark has said its piece and supported the victims, it's a shame the others have been so slow to do the same.