Primark in a sweat over exploitation claims
Will more Primark sweatshop allegations take the shine off Associated British Foods' AGM today?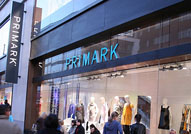 Just as its shareholders prepared to gather at today's AGM, to salute last year's 8% profit hike, Associated British Foods has found itself embroiled in yet another sweatshop row over Primark. Charity War on Want claims to have evidence that some of the clothes sold at the cut-price retailer are produced in sweatshops in Bangladesh, where workers earn a measly £19 a month. It's not the first time that Primark has come under fire for its supply chain and procurement practices – but it insists that it's now taken steps to stamp out any abuses. And although this is a rather unwelcome distraction, it doesn't appear to have done sales much harm to date…

On the face of it, the findings look pretty bad for Primark. War on Want reckons employees at a factory it uses in the Bangladeshi capital of Dhaka (it's refusing to be more specific in case of reprisals, much to Primark's chagrin) told them that they earn as little as £19.42 a month before overtime, which is less than half the estimated living wage of £39.74 – and not enough to afford basic housing, food and decent healthcare. What's more, apparently workers are required to slave away at their sewing machines for up to 84 hours a week, sometimes in slum-like conditions. Not one for the CSR brochure.

Primark isn't the only retailer likely to face questions about its ethical practices – the factory concerned apparently also produces clothes for high-street chains New Look and Zara (although WoW said it only spoke to people working for Primark). And it's not impossible that Primark buyers sent to check out the factory's ethical credentials may have been deliberately misled – apparently when buyers visit, bosses are forcing workers to say that they earn a proper wage and don't work excessive hours, to make sure the factory keeps winning the business.

Primark insists that it's cleaned up its act, doubling audits and inspections of its factories and even launching an 'Ethical Primark' website. It also claims to have appointed 'ethical trade managers' and trained buyers to spot anything untoward. But from a distance, it's hard to know whether it was just paying lip service to a CSR agenda, or whether it has indeed made strides to improve working conditions. (It might not even know itself: when you have such a large supply chain on the other side of the world, monitoring it closely isn't straightforward - not that this is an excuse, of course).

Either way, it's interesting to note that customers don't seem to have too many qualms: Primark's sales continue to outpace its higher-price rivals...

In today's bulletin:
False dawn for auto industry as new car sales soar?
Berkeley sees green shoots - but commercial property reeling
Primark in a sweat over exploitation claims
Forget the internet - rats and rubbish are the future
Lady Geek: The 10 best gadgets to buy this Christmas