Prince Alwaleed: 'Islamic conservative' and reformer
Saudi Arabia is investing its oil wealth more wisely today than it did in the last oil boom, says Prince Alwaleed, international investor and member of the Saudi Royal Family.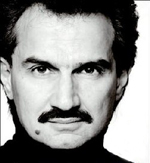 Instead of rushing into ill-conceived construction projects, the state is paying more attention to the 'impact on the social structure' such as reducing unemployment and building houses for the poor. One of the biggest recent achievements is the debt reduction programme which reduced public sector debt from 118% of GDP to 40%.
Whilst political reform has not stalled, certain things could be quickened. In particular, Saudi Arabia needs less bureaucracy, more competitive tax laws and clearer labour laws, all of which would help to attract further foreign investment. Saudi Arabia is the 'anchor of the region', says Prince Alwaleed. It is important for it to show how it can link 'political conservatism' with economic liberalism.
The risk of terrorism is being dealt with and whilst it is still dangerous, the threat is diminishing, he says. The Saudi and other Gulf economies are tending to invest most of their funds in Europe, India, China and the Far East. The US is less popular, in part because of the impact of its policies in the Middle East and its hostile reaction to Dubai Ports World's acquisition of P&O's assets in the US in 2005.
During the first oil boom, Saudi Arabia tried to diversify in new industries such as growing wheat. This was a mistake. Instead, it needs to focus on its strengths and will be directing its energies in the petrochemicals industry, banking and financial services and Islamic tourism, said Alwaleed.
Prince Alwaleed said that his holding company, Kingdom Holding (KHC), does not use its financial leverage (for instance, through its investment in News Corporation) to 'influence the direction' of the media's coverage of the Middle East. However, he said, "we try to build bridges and discuss things with them in a logical and pragmatic way…We are not asking them to be pro-Iraq, pro-Palestine, or pro-Islam, but we are asking them to be neutral."
Prince Alwaleed encourages study centres such as the $20 million Islamic studies programme at Harvard (funded by the Kingdom Foundation) to promote a greater understanding between different cultures and religions. There is 'very little difference' between the main religions, Judaism, Christianity and Islam, he says.
The prince sees himself as 'Islamically conservative' but he also promotes the woman's cause. "You cannot have a population that is 50 percent female and have it account for only 4 or 5 percent of productivity." To lead by example, he has hired the first female pilot, flight attendant and race jockey.
Saudi Arabia's global investor: An interview with Prince Alwaleed
Kito de Boer, McKinsey Quarterly Online, December 2006
Review by Morice Mendoza