Prince stops dancing
A few months ago Citigroup boss Chuck Prince tried to laugh off the impact of the impending credit squeeze, saying that his bank was 'still dancing'. Now he's been forced to face the music after the bank admitted that it may lose vast sums of money on its sub-prime investments.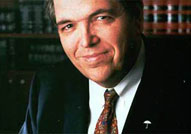 Yesterday Prince stepped down as chairman and chief executive after the bank said it would take a hit of somewhere between $8bn and $11bn in the fourth quarter. That's on top of the billions it wrote off last quarter – and with the value of these dodgy mortgage-backed securities continuing to plunge, it may yet get worse. Prince said his 'retirement' was 'the only honourable course'.
The beginning of the end for Prince was last week's note by CIBC analyst Meredith Whitney, who sent Citi's share price plunging 11% by suggesting that there was a $30bn black hole in the bank's finances. Apparently, Witney received death threats from aggrieved investors after publishing the note (we can only assume these foolhardy individuals didn't realise that the stock picker is married to the former WWE wrestling champion Death Mask – so any would-be assailants are likely to be met with a flying clothes-line and an elbow drop to the back of the head.)
But in truth, Prince has been under the cosh for some time. Citi's share price has dropped more than 30% this year, and is now 19% lower than when he took over four years ago. During his tenure the bank was caught up in the Enron scandal and a controversial bond trade, while he has faced constant criticism that the enormous organisation (currently about 340,000 employees) has become too big and unwieldy. Recently pressure from his biggest shareholder, mega-rich Saudi prince Alwaleed bin Talal, forced him to chop 17,000 jobs in a drastic cost-cutting drive.