Prison: it's a full-time job
Prisoners could earn £12k a year tax-free under Ken Clarke's latest plan...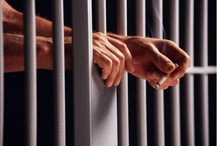 According to a new scheme from Justice Secretary Ken Clarke, convicts could be working 40-hour weeks on the minimum wage of £5.80 an hour – compared with the current maximum prison wage of £9.60 a week. But in a reward system that's really set to inspire a can-do work ethic, they'd only get to keep £20 a week, with the rest going to inmates' families and victim groups.
It's good to see prisoners earning a crust. We're more used to the popular movie image of relatives delivering them, shielding a hacksaw. And there is some logic to the idea: keep them busy, encourage skills and a sense of purpose, that kind of thing. There's also talk of the earnings going in to a fund, described by the Daily Mail in inimitable fashion as a 'pot to which burglars, muggers, rapists and other criminals can gain access after going straight for two years'. Put it like that and it sounds ridiculous.
Of course, the idea of giving jobs to criminals is, to many, just that – especially when the economy is hardly brimming with opportunity for those inclined to plough a straighter path.