Private equity ate all the pies
Looks like the credit crisis has done little to curtail private equity's voracious appetite – Gresham Private Equity has bought the West Cornwall Pasty Company for £40m. Now it just needs to snap up a cream tea chain and a scrumpy farm to get the full rounded diet.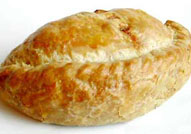 West Cornwall Pasty Company, which sells pasties handmade in the county, as well as pizza, pastries and coffee, has 55 outlets. The Cockings, the company's surfing owners, will be more than happy with the £40m price tag - especially when you consider that they founded it, back in the '90s, on a budget of £2,000 and apparently had to sleep in the shops' basements at times to make ends meet.
The success of the company shows that anything can generate cash nowadays. Pasties were traditionally eaten by Cornish miners – their wives would take whatever leftovers were to hand and cook them in a pastry shell to enable the lunch (or 'crib' in the lingo of the Duchy) to stay warm for longer. The strength of the West Cornwall Pasty Company was to realise that hot handheld snacks are now a winner once again, and that if you put kiosks in convenient places – such as London's major railway stations – people won't even flinch at paying nearly £3.50 for something that retails back in Cornwall for around two quid less (or for free when made by your nan). It's the sharpest marketing trick since bottled water.
So what are the implications of the deal? Forty million big ones should go a long way for the Cockings, even with southwest property prices soaring. Plus they get to avoid the fallout of Alistair Darling's changes to taper relief on capital gains tax, which they had described as a 'worry'. Gresham Private Equity, meanwhile, gets to profit from further success in a growing chain, which already has 50 new outlets in the pipeline.

But what about the poor Cornish ex-pats, who rely on such suppliers for their regular pasty fix? Judging by private equity's usual cash-saving habits, they can expect sloppier meat, smaller sizes and less dedication to the intricate ancient art of pasty crimping. It may be best to get your grandmother to freeze a year's supply and post them up – once the postal strikes have blown over, of course.