Can the private sector heal the NHS?
The government wants private firms to come and kick the NHS into shape. But will it prove a cure-all?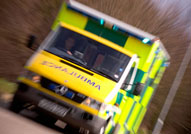 Under new plans announced today, the Government wants to let private companies take over failing NHS hospitals and trusts, in a bid to improve performance. It's not the first time it's encouraged the private sector to get involved with the NHS – it's already spent heavily paying for operations in private clinics, to reduce waiting lists – but this would be the first time that it's handed over responsibility for the day-to-day running of hospitals to someone not employed by the state.
Health minister Ben Bradshaw is setting out minimum standards of safety, quality and finance for NHS trusts – and about 30 are expected to fall short. If the current management can't fix the problems, they'll all be sacked (without compensation) and replaced by managers from another NHS hospital – or from private firms. And it sounds like there'll be no shortage of takers: private medical firms like Bupa and Nuffield, along with consumer businesses like Virgin, Sainsbury's and Tesco, are all likely to fancy a slice of the NHS's gargantuan £100bn annual budget.
The government is insisting it will keep a tight grip on the NHS's main assets, namely its front-line medical staff and the various hospital buildings. But if it hopes this will stop people moaning about privatisation, it's got another think coming. Take Geoff Martin, head of campaigns at lobby group Health Emergency, who called it 'an effort to privatise the NHS on a scale that even Margaret Thatcher would have balked at'. He likened the plan to 'the selling of franchises for Kentucky Fried Chicken' and argued that privatisation 'ripped off the taxpayer to the tune of billions' and 'destroyed cleaning standards'. Although we must say, the private hospitals we've been to haven't exactly looked dirtier than their NHS equivalents…