Privately speaking
Sir Richard Branson's Virgin Group seems to be presenting itself as the acceptable ownership alternative for the employees and shareholders of Northern Rock. But is it really any different from the shadowy private equity companies that are likely to be its main rivals in the bidding? What do we actually know about the Virgin Group, other than its founder's obsession with hare-brained publicity stunts?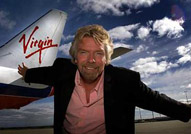 After the political row erupted over private equity this summer, the industry bowed to the inevitable and appointed City grandee Sir David Walker to establish how it could become more transparent. Walker has already published some draft proposals, which contained some interesting ideas and were largely well-received. So far, so good.
The problem is, these recommendations will only apply to private equity firms. Other privately-owned firms, like Virgin, can continue to be as opaque as they like. So in a situation like Northern Rock, the likes of JC Flowers and Cerberus (both rumoured to be potential bidders) could find themselves in a bizarre situation where they are compelled to provide detailed financial information about their bids, but their main rival is not. Not exactly a level playing field – though one that the private equity boys have enjoyed exploiting when competing against corporate buyers.
The Association of Investment Companies certainly doesn't think so. The trade body has written to Walker insisting that 'private equity-owned companies should not be singled out for special attention'. It fully approves of greater transparency – after all, it hasn't harmed listed investment companies, it suggests. But this should apply to 'all large private companies, regardless of their ownership structure', it believes.