'Problems recruiting? We'll do it for you' says minister
Small businesses need look no further than the Government's Work Programme, says employment minister Chris Grayling. Interesting...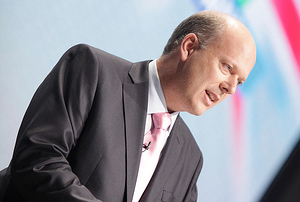 Figures in October might have shown that unemployment reached 2.57m in August – its highest level since 1994 – but businesses still complain in their droves about a lack of skills among UK workers. Step forward, employment minister Chris Grayling, who said today that businesses on the hunt for new recruits should look no further than the Government's little-publicised Work Programme…

The Work Programme, for the uninformed, is a scheme set up by the Department of Work and Pensions in November last year which gets private sector help to get unemployed people back into work. The idea is that private sector agencies (Ingeus, A4e, Working Links, Seetec and G4S are among those involved) take the burden of recruiting off businesses by doing all the advertising and shortlisting of candidates themselves, sending businesses a small pool of candidates to choose from. What's interesting about the scheme is that the contractors in question only get paid when they get someone into work – and then again if they're still in the post 27 months later. So the incentive is to make sure they've got the right person for the job.

Considering those unemployment figures, though, it doesn't seem to have done much good so far. No wonder Grayling feels that it needs a bit of promoting. Today, he was keen to point out its advantages: 'they'll get to know you and your business [and] they'll get to know all the potential recruits…. Doesn't that sound a better way to do business?'

Naturally, there's been criticism of the scheme: some have argued that, as it's incentive-based, the agencies will overlook difficult-to-place candidates and make a beeline instead for the recently unemployed, with good qualifications and excellent work records. But Grayling seemed keen to counter that: 'Recruitment is a grind,' he said. 'Money spent on advertising. Too many CVs. The slog of sifting them, and hoping you've picked the right one. Wouldn't you prefer a service that did that for free?' Well, quite.
- Image credit: Flickr/conservativeparty