Profits and passengers lift-off at Gatwick
The UK's second largest airport has reported a rise in both traffic and profits prompting a push for a new runway.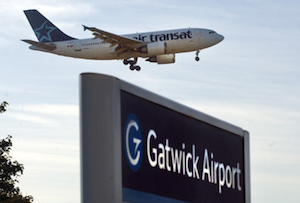 Amid the ongoing and snore-inducing debate about increasing London's airport capacity, its second largest airport has swooped in with some snazzy first half results – building its argument for a new London runway to be built in Gatwick.

The airport said pre-tax profits in the first six months to 30 September were £127.3m – a nice leap from £107.2m last year. It also revealed some 20.8 million passengers passed through its terminals, a 4.4% rise from last year.

EasyJet's continuing stellar performance has helped the airport, the budget airline has been adding business services at Gatwick left right and centre. Following its purchase of 25 of Flybe's Gatwick slots for £20m, EasyJet has an estimated 40% share of the total slots at the airport. Turkish Airlines has also increased its services at the airport and Norwegian launched 12 new routes. It's not just the short-haul market which has given Gatwick a boosteroo, Vietnam Airlines has also increased its use of the airport.

The performance has given Gatwick chief executive Stewart Wingate an excuse to get on his soapbox and canvas for an extra runway to go to Gatwick rather than Heathrow.

The government has commissioned a report into airport capacity and there are a number of options on the table. A third runway at Heathrow has lots of support from business groups but has also been heavily contested – most notably by London mayor Boris Johnson who would rather we build a new airport hub in the Thames Estuary.

'This is just the start of what Gatwick has to offer,' said Wingate.

'A new runway here would deliver the routes that passengers actually want at a better price, more quickly with significantly less environmental impact. The UK's next runway has got to be at Gatwick.'

Right, Wingate and Boris Johnson, outside the bike sheds at noon – we'll soon settle this one.