Promotion from within increases confidence in bosses
Survey claims only 38% of workers confident their bosses will lead them safely through recession.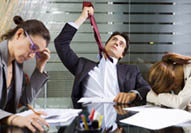 And a large part of the reason for such a low level of support is, say the survey's authors, a lack of faith in bosses who are shipped in from outside the organisation, and hence pretty much unknown to staff.
66% of organisations recruiting leaders from within the business have bosses regarded as good or very good, compared to 51% of firms which hire externally for the top jobs. Pretty firmly counter to the prevailing pre-recessionary orthodoxy, which stated that external hires were better because they have wider experience, have shareholders' interest more closely at heart and aren't unafraid to kill the odd organisational sacred cow. Internal hires, by contrast, were only for those firms which were so tragically dull or monumentally cheap they could neither get nor afford the best management talent.
But now it seems that this may have been a mistaken, or at any rate greatly exaggerated, point of view. The board and the investors might be taken by the idea of a new broom sweeping clean, but surprise surprise, the people who actually have to do the do prefer to work for someone they know and trust.