Property and IP top of Osborne's Autumn Statement?
Helping SMEs to remain competitive in a tough economy and a few swipes at maligned multi-nationals will this year contrast with last year's 'pasty tax' statement.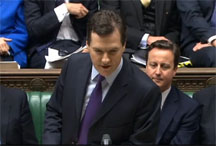 Compared to the 'omnishambles' budget in March, the 2012 Autumn Statement is likely to be more about the patent box initiative and property tax than pasty taxes. Of particular interest to many UK business owners worried about trying to compete on an equal footing with big global corporates will be measures to tackle tax avoidance. There is likely to be a swipe at global organisations with a high UK presence but low tax bills, although it is probably too early to see concrete measures announced. We can also expect refinements to the General Anti-Abuse Rule (GAAR), issued a few months ago, designed to challenge the more aggressive forms of tax planning.
On this note, we already know there are plans to introduce special tax rules around intellectual property (the 'patent box') and to increase UK competitiveness (the 'controlled foreign company' rules) from 2013. However, we have also seen a falling corporation tax for several years in a row. Will the Chancellor be paving the way for another cut of the mainstream rate? And if so, how will he pay for it? We should get some indication of whether this issue is going to be notched up another time.
Successful business owners and high earners will also be keeping an eye on any potential changes that may affect them personally, and we expect the chancellor to respond to a number of the proposals consulted on over the summer. In particular, there may be further announcements in relation to residential property, although it doesn't look like the Liberal Democrat-favoured 'mansion tax' will not appear itself in the statement.