'PR's such a flaky industry' - Claire Kent & Bill Byrne, Iffley Road
HOW WE BEAT THE ODDS: Building a luxury running gear brand was harder than this couple expected.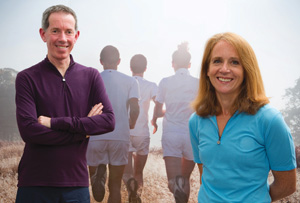 We've been running all our lives. In fact, that's how we met. Neither of us could find anything we wanted to run in. The clothes that were technical, which ran well, looked like hi-vis vests. We wanted something advanced yet classic and understated.
I worked in the City as a luxury goods analyst, and I was struck by the fact that in this important area of my life, there was nothing luxurious to wear. There wasn't so much a gap in the market as a need for something new. Not every runner would pay for luxury gear, but it's horses for courses. Surely, we thought, if we'd buy something like that, others would, too.
We're entirely self-funded. Bill gave up his job as a maths teacher in 2012, while I continued to do some part-time consultancy work. That was when it felt real, but it was more exciting than nerve-wracking.