Pub shares turn bitter as MPs vote down beer tie
Unsurprisingly, the big pub chains are not happy about the 'hugely damaging' law.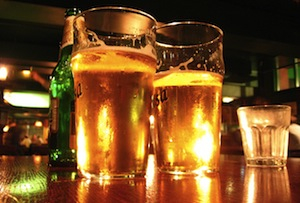 Pub companies got an uncomfortable taste of the bottom of the barrel today, when their shares plunged after MPs voted to let landlords buy their beer more cheaply on the open market.

Enterprise Inns plummeted 15.5% to 104p, while Punch Taverns dropped 15.6% to 127.8p. Other chains less reliant on the 'beer tie' were also hit: Spirit Pubs' shares fell 5.79% to 101.75p and Greene King, which is taking Spirit over, was down 4.5% to 750p.
Draining share price: Enterprise Inns (ETI.L), Punch Taversn (PUB.L), Greene King (GNK.L) & Spirit Pubs (SPRT.L). Source: Yahoo Finance
At the moment, more than 13,000 of the UK's 55,000 pubs have to buy their beer from the company that owns them, often at well above what they could get it for on the open market. For example, the Campaign for Real Ale claims a pub company will charge up to £150 for an 11 gallon keg of Fosters, a 77% mark-up on the £85 wholesale price.

These pubs pay lower rents at the moment, but critics of the policy say it means most of their landlords earn less than minimum wage.

Unsurprisingly, pub companies were not best pleased. Enterprise Inns said the amendment to the small business bill would have 'serious unintended consequences for publicans and the industry at large'.

'Independent economic research, commissioned by the government, found that a 'market rent only' option would lead to widespread pub closures, significant job losses and reduced investment in the sector,' its chief executive Simon Townsend said.

The change 'would hugely damage investment, jobs, and result in 1,400 more pubs closing, with 7,000 job losses - as the Government's own research shows,' the British Beer & Pubs Association chief exec Brigid Simmons said. 'There are serious legal and competition issues which must be faced, as it rides roughshod over what are previously agreed contracts, and creates an unworkable, two-tier market.'

The vote was an embarrassing defeat for the Government - its first on one of its own bills since the 2010 election. It has yet to decide, though, whether to try and overturn the law in the House of Lords. And even if the changes do go through, pub companies will have at least two years before they're implemented - plenty of time to drown any sorrows about their draining share price.