Public borrowing soars to new record of £16.2bn in September
Are today's grisly borrowing figures an extra worry for the Government on CSR day? Or a timely fillip?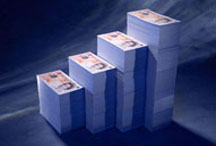 More grim borrowing figures from the Office of National Statistics today: the Government was forced to cadge more than £16bn last month, the highest September figure on record and well above City forecasts (which were around the £15bn mark). Coming just hours before George Osborne stands up to deliver the Comprehensive Spending Review, it's a reminder of how bad the public finances are. But we doubt George Osborne will be too dismayed. If anything, this strengthens his argument for a spending squeeze. And given that we've actually borrowed a bit less so far this year than last, he could still hit his annual borrowing target…
Economists had been predicting that September's borrowing would be down slightly on last year's (already gruesome) total of £15.5bn. But in fact, it was substantially higher at £16.2bn, if you exclude the impact of the bank bailouts. That pushes the UK's net debt to an almost incomprehensible £843bn, equivalent to 57% of GDP - up from 49% this time last year (if you throw in the financial interventions too, the total is actually £952bn, or 65% of GDP). Oh, and we also ran a budget deficit of £13.2bn, £1.5bn higher than last September. Scary numbers all.
Naturally, the Chancellor will use this data as evidence that he's right to try and cut spending substantially over the course of this Parliament - particularly because these figures included a big jump in interest payments on our debt. And although many influential voices are still arguing that our economy is too weak to take the medicine (on the grounds that it will just suppress demand even further and make the whole situation worse - a view eloquently expressed by Nobel laureate Joseph Stiglitz in today's Guardian), there was at least one bit of good news today. Borrowing for the first nine months of the year was £73.5bn, £3.8bn less than this time last year. So there are some signs of improvement.

But will the economy recover as well as the Government hopes? Not according to the National Institute of Economic and Social Research: the think-tank has just downgraded its growth forecasts for next year and the year after (to 1.6% for both) and warned that the deficit won't shrink as fast as Osborne says - largely as a result of the spending review.

At the moment, all of this is a guessing game. But our spiralling national debt is very real, not to mention increasingly expensive...