Public sector needs to think small
The best way the Government can help SMEs is to give them more work, say business groups...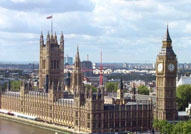 As part of its emergency recapitalisation scheme, the UK Government says it will force banks to lend to small businesses at 2007 levels – an attempt to win back some friends in the SME community, perhaps. But according to three leading business groups, there's a much easier way for them to help SMEs: by making it easier for them to win public sector contracts. They argue that small businesses could be adding lots of value to government projects – but the procurement process is so complex that most don't bother bidding for the work.
Research company FreshMinds (MT's partner in our recent Work 2.0 survey) was commissioned by the CBI, the Federation of Small Businesses, and the BVCA (the private equity trade body) to survey 500 small businesses' attitudes to public sector work. It discovered that three-quarters rarely or never bid for government projects, citing a number of key barriers: the majority felt that it was too difficult to find about them, that the tendering process was too slow and complex, and that it was too hard to deliver the final work. As a result, less than 20% of respondents expect to do more public sector work in the next two years.
The obvious solution, the business groups argue, is for the government to make it easier for smaller businesses to compete with their larger brethren. 'Small businesses face significant barriers and are not always given a fair chance to compete against larger companies,' says the FSB's John Wright, while BVCA boss Simon Walker wants the Government to 'create a more balanced and fair procurement process.' This means making it easier to get hold of information, cutting down on the form-filling, reducing compliance demands and improving transparency.