Public-sector sickies
The 'amazingly high rate of absence' at two government departments may have provoked the wrath of the House of Commons' Public Accounts Committee. But without wishing to sound cynical, is anyone really surprised?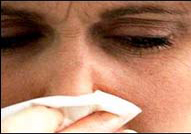 At the Driving Standards Agency and the Driver and Vehicle Licensing Agency (DVLA), the two biggest arms of the Department of Transport, employees are taking an average of 13 days off a year. That's almost twice the average figure for the private sector, and it's costing the department £3m a year, according to the committee. As chairman Edward Leigh icily put it: 'The fact that both agencies seem to function adequately despite this amazingly high rate of absence is a matter for surprise, to say the least.'
The CIPD has been quick to draw attention to a survey it ran earlier this year, which revealed that 4.5% of all working hours in the public sector are lost to absence. That means that on average, every single employee is taking 10.3 days off sick every year.
It found the worst 'offenders' to be NHS workers, with 12.6 days per year each – though to be fair, given that they spend most of their time in a hospital surrounded by sick people, it wouldn't be surprising if they got ill more often than most. However, central government employees (who took on average 11.1 days each) have no such excuse.