How the public sector is wasting £11bn a year
Could better negotiation skills in the public sector save over £11bn of our taxpayers' money?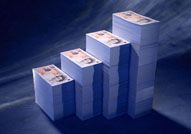 If public sector procurement teams had a better idea of how to negotiate contracts, it could save taxpayers a fortune, according to a new report by the Centre for Economic and Business Research and negotiation specialists The Gap Partnership. Given how much money is spent on public sector contracts every year, the authors argue that there isn't enough focus on negotiation skills - that procurement teams often underestimate how much effort is required to cut a good deal. And it's apparently costing us all £11.3bn a year...
So where does this figure come from? Well, according to the report, better negotiating could strip out £4.6bn in admin and defence costs, £2.2bn in education costs, £3.4bn of health service costs, and £1.2bn in social work costs. That adds up to a potential saving of over £11bn – more than the budget of the Department for Work and Pensions, and equivalent to over 3% of the public sector's current operating costs. The CEBR also points out that this would pay the wages of about one in five of those expected to get the chop when the budget axe finally falls – around 60,000 people in total.

Procurement teams will probably claim that their hands are tied, and to some extent they're right: they tend to be bound by some very tight guidelines, usually around price. But as The Gap Partnership points out, price is just one variable on a contract. There are several others over which they can negotiate: the level of risk involved, how long it lasts, exactly what (and how much of it) they'll get for their money, and even what happens with the results. For instance, if a supplier chooses to shares its research data with the client, this might add some extra value to the contract – as indeed can any of these variables.

Still, perhaps necessity will be the mother of invention. With public borrowing continuing to soar, everyone knows that we're going to see some fairly drastic public spending cuts before too long. So if departments don't want to lose half their headcount, they'll have to start finding some cuts somewhere – and procurement is as good a place to start as any.

But although the problem is arguably more pressing in the public sector, it's by no means confined to it. The report suggests that across the whole of UK plc, around 4% of operating costs are wasted on bad negotiation. We could do without that at the moment...

In today's bulletin:
Can rail electrification save the planet?
Dave Carroll takes broken axe to United Airlines
How the public sector is wasting £11bn a year
Discounts can't get any deeper, say retailers
Female CIOs in Canada shatter the glass ceiling?