Publishing group Pearson to launch degree courses
Pearson has decided to launch a higher education college offering full-blown undergraduate degrees.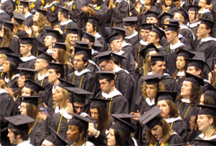 In a highly unusual move, Pearson is opening its doors to degree course students, making it the first FTSE 100 firm to get into the tertiary education business. 'Pearson College' – that's its rumoured name - will first offer a BSc in business and enterprise, with teaching apparently taking place in its HQ in London. Courses are expected to cost around £6,500 per year, and will involve a guaranteed internship programme as well as business mentoring. Sticking to their knitting, then.
Pearson, which also owns Penguin Books and publishes the FT, has been making noises about getting into education since 2010. But it was originally considering becoming a sort of exam board rather than a fully-fledged educational establishment. The college will open next year, taking on 100 students for a three-year course. Around 40 students will be admitted this year to get the ball rolling – described as 'pioneers' by the FT. That sounds like a Guinea pig programme to us…
As it stands though, the college will not have the full powers of a higher education institution – Royal Holloway will do the degree-awarding bit until Pearson can get the license to do the job itself. Government legislation to allow private firms to get in on the education market is taking longer than expected to come through and will mean that Pearson might not be allowed to dole out the certificates for some time.