Punch's glass remains half empty
Punch Taverns' profits are slipping down like a line of tequilas at the office Christmas do.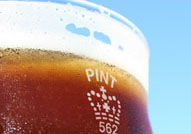 Britain's biggest pub company says its like-for-like profits are continuing to fall at the same rate as last year - an 11% drop in the 16 weeks to 12 December, thanks to less beer being shifted and weaker rental income. The news (which downed its shares by 3% today) wasn't really a surprise; as Punch says, it has to contend with high levels of unemployment, impending duty and VAT increases, plus an uncertain UK consumer environment - none of which prompts the beer to fly out the pumps any faster. But it's not all doom and gloom...
Well, perhaps it is for Punch, whose problems continue to pile up. As it wrestles a net debt of £3.3bn, it's already been forced to dispose of hundreds of under-performing pubs - and it's now pouring away £2m a month helping its troubled licensees stay afloat via discount schemes and rent concessions. That's up from £1.6m a month in the year to August, when the group revealed losses of £405.7m for the year. That's enough to drive anyone to drink.