Pushy salespeople: a dying breed?
Brash salespeople will apparently be history by 2020, a new report says. Perhaps we should warn them?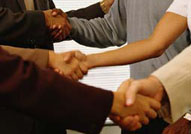 The pushy salesperson, a familiar concept to anyone who works in an office (or has ever watched The Apprentice) is going the way of the dinosaur, according to a report by sales technology specialist Callidus Software. Changes to the market (more sophisticated buyers, greater competition, economic woes and so on) apparently mean that 'by 2020 the stereotype of brash, fast-talking, unscrupulous, sales operatives will be consigned to history'.
The US company says that Britain's 500,000 salespeople will need to 'radically change their skills' to survive in the changing business world. The big winners of the new world order will not be the kind of amoral sweet-talkers that would sell their grandmother to get a client to sign on the dotted line. The new top dogs will have five key skills, apparently: empathy with their client, long-term relationship-building skills; the ability to work with people from elsewhere in their company (rather than competing with them), in-depth knowledge of the market, and a dedication to customer service. Which is welcome news for grandmothers everywhere.
Callidus' theory is that the world has changed – we're now in a buyers' market, where the internet is helping to make the sales process more transparent, while salespeople are struggling to hit demanding targets as the economy takes a dive. The end result will be that customers get a lot more demanding – particularly in service levels and post-sales support. The old-fashioned snake oil merchant just won't cut the mustard any more…