How to put a value on your brands
Your board is about to make some big decisions about acquisitions and disposals, and where to invest. But what are your company's brands worth?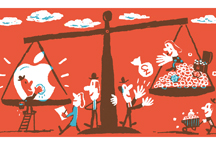 Why bother? 'Strong brands influence customer choice, and create loyalty, attract, retain and motivate talent and lower the cost of financing,' says Mike Rocha, global director, brand valuation at Interbrand.
What's it for? There are four reasons for valuing brands, says Joanna Seddon, president of New York-based consultancy OgilvyRED. The first is during an acquisition when you need to know how much goodwill to put on the balance sheet. Second is to understand how much your brand contributes to incremental revenues and profits. Third is to decide how much to invest in the brand. And fourth is to track how successful your management and investment has been.
Call in the experts. 'If you're doing this for compliance, for example, in an acquisition, it's fine to get accountants to do it,' says Seddon. If your goal is more strategic, you need someone with marketing expertise, she says. 'It will have more credibility if you bring in an outside expert.'