#PutinProblems: BP profits plunge as Russian sanctions bite and oil prices tumble
The oil major's Russian investments are turning decidedly chilly as sanctions drag on.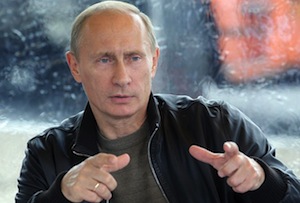 There's a cold wind blowing over the Urals for BP at the moment, with profits chilled by the sanctions-strangled Russian economy and tumbling oil prices.

The oil major's third quarter profits fell 18% to $3bn (£1.9bn), measured on an underlying replacement cost basis (analysts' favoured version, as it strips out oil price swings).

Meanwhile, income from its 20% stake in Rosneft, which is majority-owned by the Russian government, plummeted to $110m from $808m this time last year and $1bn in the second quarter. Rosneft was also meant to publish its results today but unexpectedly delayed doing so, without giving a reason.

BP has been hit by the weakening rouble, which has lost 24% of its value against the dollar over the last year as the West imposed sanctions on Russia over its takeover of Crimea and meddling in eastern Ukraine. Its third quarter 'currency translation differences' showed losses had almost trebled to $3.3bn in the first nine months of 2014 from $1.4bn in the same period in 2013.

Falling oil prices have also done BP no favours, pushing revenues down from $96.6bn last year to $93.9bn this year. In July-September, Brent Crude oil averaged $102 a barrel, down from around $110 in both the previous quarter and the same time last year.
Source: Nasdaq
They've since slid even further, as demand from China ebbs while a glut of black gold flows onto the market. A barrel of Brent Crude was selling for $85.62 on Tuesday morning, with the price depressed more by a Goldman Sachs analysis yesterday that predicted it could drop as low as $80 in the second quarter of next year.

While BP's shares have fallen in tandem with oil prices (and additional fines for the Deepwater Horizon oil spill disaster) from their 2-year peak of 532.9p back in June, investors weren't too concerned about the results today. Shares actually rose 1.9% at the open, before slipping very slightly into negative territory at just under 430p in mid-morning trading. But with the Russian economy and oil price going nowhere fast, they won't be staging a recovery any time soon.

Source: Yahoo Finance