'Putting on an ill-fitting black suit is my idea of hell' - Poppy Mardall, Poppy's Funerals
20 QUESTIONS: The entrepreneur and 35 Under 35-er talks about employing poets and fire fighters and why she only has one app on her phone.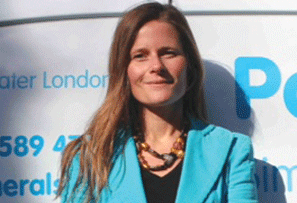 1. IF YOU HAD DONE SOMETHING ELSE WHAT WOULD IT HAVE BEEN?
I always felt like I would like to be a sculptor. I love the idea of something practical and beautiful - at the end of every day you can say 'I made this and it is amazing'. I was just not born to sit at a desk.
2. WHAT ELSE WOULD YOU NAME YOUR BUSINESS?
I remember we were talking about 'Lighthouse Funerals' – I quite like the symbolism of a light in the night - but there's already so much associated with that word. Besides, Poppy's Funerals makes much more sense. My name is Poppy, and poppies are symbolic of remembrance after all.
3. IF YOU COULD BE BASED IN ANOTHER CITY WHERE WOULD IT BE?
Madrid, because it is the most fun city in the world and we would have a blast. Not because I think my business would do well there, though. Maybe after my retirement.