Qantas: BA's decent proposal
British Airways continues its bed-hopping. It's now courting Australia's Qantas, for a £3.5bn merger.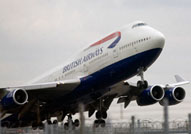 The UK flag-carrier surprised shareholders by announcing it is seeking a deal to create a 'truly global' airline that would be listed in both the UK and Australia, forming a business with 71m passengers a year, and 474 aircraft flying to more than 230 destinations.
It's a move driven partly by necessity: the International Air Transport Association, the industry trade body, expects the world's airlines to show a collective loss of $9.3bn in 2008 and 2009. Indeed, the beleaguered sector is taking on the air of Desperate Housewives, as everyone jumps into the sack with everyone else in a sudden panic to consolidate.
As well as the proposed Qantas merger, BA currently has one eye on a transatlantic relationship: a proposed revenue-sharing deal with American Airlines - which would allow them to agree fares, routes and schedules together - is now under investigation by the EU.