Qataris ditch Sainsbury bid
Nobody likes Monday mornings, but if you happen to be a member of the Qatari government, you'll be feeling the pain more than most. Its investment fund Delta Two has pulled out of talks to buy supermarket chain J Sainsbury after a three-month pursuit, leaving itself seriously out of pocket and with a big dent in its reputation.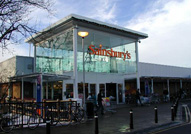 In a statement today, Delta Two boss Paul Taylor said the extra cost of funding in the wake of the credit squeeze meant the deal 'would not be in the best interest of stakeholders'.
Taylor argued that the extra £500m it would have needed from its backers to make the deal happen would have had a negative impact on returns.
But for an £11bn deal that already included nearly £5bn in equity, this seems like a relatively small shortfall to abandon a very long and very public pursuit. Taylor will argue that he is just showing good investment discipline – which is probably true – but it will inevitably affect the fund's reputation for getting deals done.