Qatari's quick buck on Barclays, Diamond stays put
Qatari Holdings raises £1.4bn from its Barclays stake as Bob Diamond swears allegiance to the bank.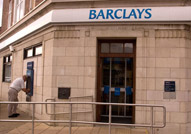 Only a year after buying a substantial stake in the British bank Barclays, Qatar's sovereign wealth fund is selling 379.2m shares after exercising warrants at a price of 197.78p, raising an estimated £1.3bn. Taking into account the price it bought the warrants at, that equates to a £600m profit for Qatari Holdings - not a bad year's work by any measure.
The deal also provides Barclays with a tasty £750m windfall to boot - everybody's happy. Including even legendary BarCap boss Bob Diamond, who has apparently turned down the possibility of the top job at Bank of America to stay with Barclays. At any rate he was shortlisted for the post, made vacant by the imminent retirement of Ken Lewis, but declined an invitation to interview.
Of course, large investors liquidating their holdings in a firm can be seen as a vote of no confidence, but there's no suggestion of that here. For one thing the deal only reduces QH's stake from 7.4% to 7.1%, and for another QH's chief exec, Ahmad Al-Sayed, has been at pains to stress that the fund is still very much a long-term investor in Barclays.