The Queen hits Google HQ
A new twist on internet protocol - search giant Google is getting a visit from the Queen.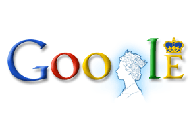 Her Royal Highness is heading down to the company's UK headquarters in Victoria today, a visit apparently set up at her request. Better spruce up the beanbags. It's not every company that gets the Monarch asking to pop in for a cup of tea and couple of Hob Nobs. And it's hard to imagine what she expects to see there. Lots of computers, for one. And, given it's such a famously alternative workplace, gangs of grown men throwing out a 'ma'am' as they bounce past on pogo sticks.
Google has marked the day by working the Queen's profile into its home-page logo, a 'Google doodle' used to mark notable dates. Hers is a face more commonly seen on stamps, but these days Google's homepage will get you far wider coverage.
The Queen's publicity people are always keen to paint her as a tech-savvy silver surfer. In 1997 she launched the official royal website, and two years ago the Queen's Speech was made available as a podcast for the first time. Last Christmas the first Royal Channel launched on YouTube, Google's video-sharing website. Some 1.6m users have viewed the 54 royal clips, which may or may not contain footage of the Queen in her Balmoral bedroom lip-synching to Christina Aguilera. She personally approved the royal channel's go-ahead after viewing its contents - which includes rarely-seen footage of her parents' 1923 wedding.