Queen of Shops to issue decree over the future of high streets
Mary Portas has apparently been appointed by the Government to lead a review into the state of British high streets. Well, if it worked on telly...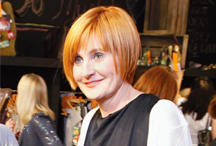 We've heard plenty of complaints from big retailers about how tough conditions are on the high street at the moment, so we can only imagine what it's like for smaller independent traders whose end-of-year figures don't make the headlines. Fortunately, though, help is at hand, in the guise of helmet-headed 'Queen of Shops' Mary Portas, who has been summoned by David Cameron to cast her eye over the state of British high streets. Portas is retail royalty (she played an important part in turning Harvey Nicks into a fashion brand), so we've no doubt she'll have a few good ideas – although it sounds like she might ruffle a few feathers at larger retailers along the way…
Apparently, the plan - first reported in trade magazine the Grocer a while back - is for Portas to help identify 'what Government, local authorities and businesses can to do to promote the development of more prosperous and diverse high streets'. That means fewer towns with the same roll-call of clones on every corner – or, worse, empty shops – and more encouragement for independent retailers. Sounds ideal. Portas said that unless local Governments do something about the situation soon, 'we will have tumbleweed rolling down our high streets'.

Portas is due to present her findings in the autumn, but has already hinted at one of her solutions. In an interview with the Grocer, she suggested that one idea might be to ask big retailers to dig into their pockets to help improve high streets. 'What would be so wrong if out of all the millions in profit that Tesco makes every minute they were to put a percentage back into developing local community high streets?' It's a nice idea, but what chance the big supermarkets spending their hard-earned cash propping up local traders? We'll believe it when we see it.

Besides, perhaps Portas is maligning Tesco unfairly. Just last week, a survey suggested that far from being the destructive force those angry mobs in Bristol would have us believe, Tesco is already a bastion of community spirit. So perhaps her job might be easier than it looks.