The Queen's Speech: Companies don't want to go Dutch on collective pensions
The government also wants to ramp up house building and make it easier for small businesses to get loans. Good luck with that.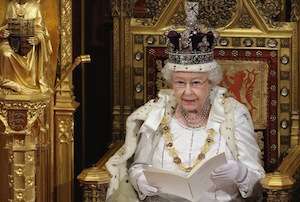 Ah, the Queen's Speech - pomp, circumstance and usually very little of actual substance. This year, ahead of the 2015 general election, the coalition is desperately trying to deflect Labour claims it is a 'zombie government' with some headline-grabbing policies - the most interesting being the heavily-trailed introduction of Dutch-style collective pensions.

Politicians have enthusiastically claimed collective defined contribution (CDC) schemes, which pool savings and thus reduce risk and management fees, could increase pension payouts by 30%. However, companies have raised a collective eyebrow, suggesting few will actually implement a model already used in Canada and the Netherlands (for a detailed primer on CDCs, check out this BBC piece).

'These schemes are complex, so they are likely to be offered only by a few large employers keen to provide their employees with something more predictable than the defined contribution schemes that will remain the mainstay of corporate pension provision,' Neil Carberry, a director at the CBI, told the FT.

Companies are also fairly worried that a policy that allows them to make approximate promises to staff of what they can expect to be paid in retirement could be hardened up by any future government.

'It could start off all lovely and vanilla for employers but we could end up back with defined benefit pensions... which are already costly,' PwC's UK pensions head Raj Mody said.

Moreover, Holland's system is coming under pressure from young people claiming they will miss out while current retirees' income is beefed up, and the youth wings of the three main parties are lobbying hard for change.

The Dutch also pay as much as a quarter of pre-tax salaries into pensions, whereas Brits pay an average of just 9.4%. To add to that, more Dutch work at large corporates, which are more suited to big collective schemes, than entrepreneurially-minded Brits.

The government also wants to look like it is tackling the acute shortage of new houses in the UK, which, along with wealthy expats buying up the capital, has been fuelling yet another hefty rise in house prices.

Developers are being given the power to push through planning applications without the need for council approval and it will be easier for the government to sell-off unused public land and build new garden cities. Meanwhile, developments with fewer than 50 houses won't have to abide by requirements to reduce emissions.

However, with house builders used to selling relatively few homes at high margins, a bit more stick and less carrot is probably going to be needed to make them ramp up their construction and sacrifice those juicy profits.

Small businesses may also get a funding boost from a law that will force banks to refer those they refuse a loan to alternative lenders (peer-to-peer loans, invoice financing and the like).

With the Funding for Lending Scheme having failed dismally at boosting banking lending to small companies, the government will be hoping that a little more prodding will do the trick. However, alternative lenders have pretty stringent requirements on who they pay out to, as they like to harp on about, meaning small businesses could still struggle to find finance.