Quelle domage: UK growth up as S&P downgrades Europe
Growth in the UK has been revised up to just under 2%. In response, the French have entered a deep malaise...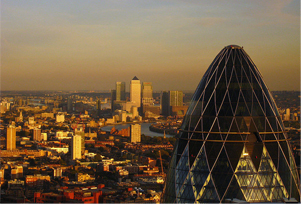 Well, the Office for National Statistics has just confirmed what we all knew anyway: not only is the economy growing, it's growing faster than anyone expected. In the three months to September, GDP grew by 0.8% compared with the previous quarter. The year-on-year figure has been revised up, from 1.5% to 1.9%. And what's more, the French have suddenly come over all Les Miserables. Looks like the Treasury is about to have a very jolly holiday indeed….

Given the fact that data this week has shown a fall in unemployment and a rise in companies bringing manufacturing back to Britain, it's hardly surprising that the economy is growing. But at almost 2%, recovery in the UK is stronger than most industrialised nations. Which is rather heartening.

There was a cloud attached to the silver lining: the UK's current account deficit has widened to £20.7bn or 5.1% of GDP, a massive rise from £6.2bn in the second quarter. The rise is almost half as much again from economists' expectations of £13.85bn, but the ONS reckons foreign trade and income investment from abroad were both down. And although tax receipts were up, public borrowing also rose to £16.5bn, from £15.6bn a year before.

But – but! – that didn't prevent ratings agency Standard & Poor's from re-stating the UK's AAA credit rating, saying Britain benefits from 'exceptional monetary flexibility' (… and adding that it's keeping the UK on a negative outlook in case it can't maintain growth, yada yada yada… whatever).

What makes this even sweeter is that by contrast, S&P downgraded its outlook for the 28 member states of the European Union from AAA to AA-plus, saying its creditworthiness 'has declined'.

'In our view, EU budgetary negotiations have become more contentious, signaling what we consider to be rising risks to the support of the EU from some member states.' Alright, so admittedly we are a member of a European Union – but this still feels like sweet revenge. What is it the Europeans call this sensation? Schadenfreude?

Understandable, really, that a poll by Gallup has found that France is one of the most miserable nations on earth – more depressed than Uganda and Uzbekistan, and more pessimistic about its future than Albania or Iraq.

According to Gallup's 'positive experience index', French people report fewer happy times than people in the US, the UK, Germany, Switzerland, Sweden, Canada… anyone, basically. Less 'Bon Vivant', more 'non-vivant'. Less 'Les Miserables', more 'Les completely Miserables'. Less 'chic', more 'bleak'. Less… you get the picture.