How do you quintuple the value of a Lada?
The Lada may have been the butt of a thousand jokes, but its Russian owners look like they're going to have the last laugh, after selling a multi-billion dollar stake to French car-maker Renault.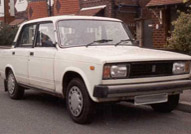 Renault has bought a 25 percent stake in Avtivaz, the company behind the much-maligned Lada, in a deal that apparently values the Russian company at more than $5bn. That means that Russian private equity firm Troika Capital Partners, which joined forces with state arms company Russian Technologies to save the company from bankruptcy two years ago, has made a return of five times its original investment (according to the Telegraph).
The hefty price tag – which brings to mind the classic gag: 'How do you double the value of a Lada? Fill it with petrol' – demonstrates the strategic importance of Russia to the big car-makers, who are finding it harder and harder to make money in their home markets. Renault boss Carlos Ghosn, who apparently fought off General Motors, Fiat and Volkswagen to win the stake, said this weekend that he wants to make Russia the French car-marker's biggest car market. He plans to double the company's output to 1.5m cars a year to make sure it can meet the growing demand.

Renault said that one of its key priorities would be to 'grow the Lada brand while respecting its identity'. Once derided as ugly ('what do you call a Lada with a sunroof and twin exhausts? a wheelbarrow') and unreliable ('why does a Lada have a heated rear screen? to warm your hands while you're pushing it'), the Lada has already come a long way – now with the help of some technological know-how from Renault and its Japanese partner Nissan, it might finally put an end to cheap shots like this from magazines who should know better.
It's also another sign of the growing entente cordiale between France and Russia. French president Nicolas Sarkozy was one of the few European leaders to congratulate Vladimir Putin publicly for his recent landslide election victory – and since Russian Technologies boss Sergei Chemezov is a crony of Putin's, this can't have done Renault's chances any harm. Though just to be clear, we're not suggesting anything untoward, Mr Putin. Sir.