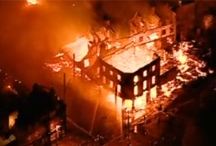 Quote of the day
'It's just completely destroyed. Words fail me. It's just gone, it's five generations. My father is distraught at the moment.' Trevor Reeves, owner of the House of Reeves furniture store in Croydon, says the building is little more than smouldering ashes and rubble after rioters set fire to the building last night.
Published: 09 Aug 2011
Last Updated: 09 Oct 2013
.
Find this article useful?
Get more great articles like this in your inbox every lunchtime