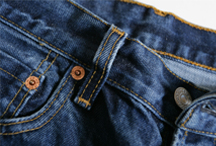 Quote of the day
'This is a serious issue. People have died because of sandblasting' - A spokesperson for the clean Clothes Campaign, which is calling for fashion houses to stop using sandblasters to produce faded denim, tells the Guardian it threatens the lives of workers in the poor countries the jeans are produced. And anyway: pre-faded denim is sooo 2000s...
Published: 12 Aug 2011
Last Updated: 09 Oct 2013
.
Find this article useful?
Get more great articles like this in your inbox every lunchtime