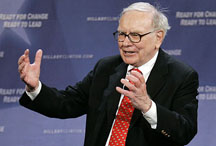 Quote of the day
'My friends and I have been coddled long enough by a billionaire-friendly Congress. It's time for our government to get serious about shared sacrifice.' Warren Buffett, writing in an op-ed in the New York Times, calls on the super-rich (like himself) to pay more taxes to help cut the US budget deficit. Controversial.
Published: 15 Aug 2011
Last Updated: 09 Oct 2013
.
Find this article useful?
Get more great articles like this in your inbox every lunchtime