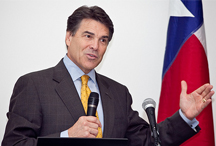 Quote of the day
'Printing more money to play politics at this particular time in American history is ... treasonous in my opinion' - Republican presidential candidate Rick Perry expresses his rather severe stance on quantitative easing. His comments have been heavily criticised, with ex-Bush strategist Karl Rove saying it was 'not a presidential statement'.
Published: 17 Aug 2011
Last Updated: 09 Oct 2013
Find this article useful?
Get more great articles like this in your inbox every lunchtime