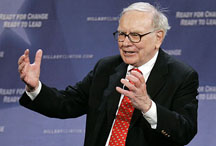 Quote of the day
'You can't have cold water in the front and hot water in the back. What was happening on Wall Street was going to immerse that bathtub very, very quickly' - following news that Warren Buffett came up with the plan to invest $5bn in the Bank of America in the bath, it seems many of his investment ideas come to him while he's soaking. In this quote, from 2008, he explained what made him invest $5bn in Goldman Sachs. Well - at least we know he's clean.
Published: 26 Aug 2011
Last Updated: 09 Oct 2013
.

Find this article useful?
Get more great articles like this in your inbox every lunchtime