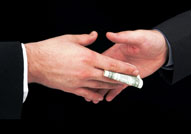 Quote of the day
'Ponzi scheme is certainly the term du jour these days' - Daniel Richman, a professor at Columbia Law School, says the word 'Ponzi' captures the act of taking people's money and not giving it back. It comes after a court dispute over whether the directors of Full Tilt Poker ran the online poker operator as a Ponzi scheme.
Published: 22 Sep 2011
Last Updated: 09 Oct 2013
.
Find this article useful?
Get more great articles like this in your inbox every lunchtime